Owner and Chairman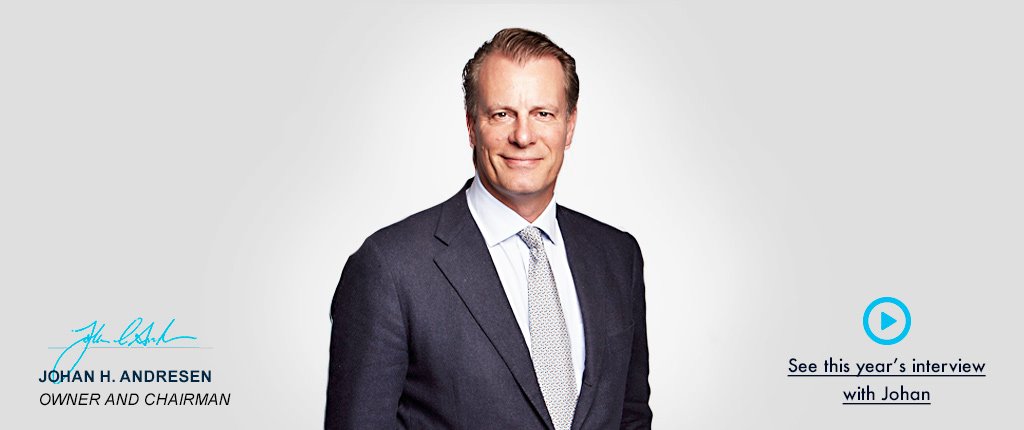 "Being able to recruit internally twice in a row for the most senior position is an enormous strength for a family-owned group. It's something I'm really quite proud of"
Interviewed by: Christian B. Ramm, Investment Director, Nordic Microfinance Initiative AS
Transcription from interview with Ferd's owner and Chairman, Johan H. Andresen
2016 was a year full of global political surprises. What was last year like for Ferd?
Well, luckily we didn't have many surprises, at least not negative ones. Our returns were all right, about 9%, with NOK 2.5 billion in value creation – something we are very happy with.
What were results like in the different Ferd business areas?
I can highlight some that were, let's say, the stars of 2016. Property – there is no doubt that they achieved very good results last year due partially to selling a large number of apartments – I think it was more than 400 on Ensjø – and selling an office building here near Lysaker. Both those things contributed a great deal. Mestergruppen has gone from being number seven in Norway to being number one by including other organisations. We are very proud of that. Now we have to show that this merger is among the leading companies, at least in Norway. We have also helped to turn Fjord Line around. They have seen major operational changes which I hope many will be able to enjoy during the summer.
And the other parts of Ferd?
Yes, there are many other parts of Ferd, of course. I would highlight the social entrepreneurs, many of whom are now really starting to do well on their own. People are starting to understand that both political and other environments really need them. What remains now is for individuals in the municipalities to buy them. This is a management challenge to the public sector in Norway.
If we compare 2016 to previous years, was last year an average kind of year?
Yes, it became an average year and we are satisfied with the results. In the period where we like to make comparisons, we topped 9% so in terms of the figures, that is average. Over a longer period, if we think back to the start, we have quadrupled our value adjusted equity. We are very pleased with that.
Ferd has probably never had as much cash as it has today. What opportunities does that give you?
I like to say that cash is not what it used to be, but when we are talking about cash, we are talking about available liquidity. It is money in the bank as well as listed shares – at least some of them – and credit facilities. These total about ten billion and that is approximately what we have had available in the past couple of years. Of course, this provides opportunities for investment where we feel that we could be a good shareholder.
Last year, Ferd made major new investments in seafood. Seafood also happened to be the winning index on the Oslo Stock Exchange last year. Will we be seeing similar industry-specific investments in the future?
Seafood will probably be something we will continue to invest in. We have invested quite a lot, almost 17% in a company listed in the UK – Benchmark Holdings – which I would recommend that others take a look at. We are keen to find fellow shareholders. We also have a small investment team in the Molde area which will make investments in seafood suppliers. As for other types of industry, we have invested in energy which we will continue to do, but it will probably take time to develop major, new industry strategies. We will probably only tell you about those once we have implemented them.
Do you have any special hopes for any of your subsidiaries in future that you would like to highlight?
Yes, maybe there is one. That would be Interwell which is a well intervention company which has developed a new way of plugging wells in oil and gas fields. Many of them both in the North Sea and elsewhere need to be shut down. So we hope that they will have their commercial breakthrough this year. We might be looking at a new little gazelle there.
You believe that Ferd's most important social task responsibilities are met by operating your subsidiaries in the right way. You yourself spend a great deal of time working for the Council on Ethics and on social entrepreneurship. Why?
I believe that all businesses have a greater potential than just the footprint that is created in standard value chains. In that respect I have also tried and even actively encouraged others to participate in other parts of civil society, but based on what they are good at. I was invited to lead the Council on Ethics and I think the work is meaningful. I also think it is meaningful for other business leaders to take on similar jobs, perhaps on a voluntary basis. So, yes, I believe that the business community has much more to contribute in identifying social solutions, for example, than has perhaps been the case so far.
Morten Borge will take over from John Giverholt as group CEO in the summer of 2017. Why will Morten be a good group CEO?
Well, what's it called? For all the right reasons. Morten has values that match Ferd's. He also has a matching potential as a manager to meet the requirements that Ferd has. He has been with us for almost nine years and has taken on some of the most difficult jobs, including Aibel, and I think he has grown with that. He is also an incredible magnet for talent. He is extremely good at recruiting. He attracts other good people and that is something we are completely dependent on. He reportedly inspires great confidence among trade union representatives, board members and employees in many of our subsidiaries where he has been active. I think that is a good thing to build on as Ferd is becoming more partnership-oriented and a co-investor and shareholder in other types of listed companies.
Like John, Morten is an internal candidate. What does that say about the Ferd model?
I hope it says a lot. I hope it says that we, when we say that we need to create lasting values and set out a clear path, we are also building from within. That we are building an internal culture that nurtures talent. We first have to attract them, of course, and then develop them further. For a family-owned system to be able to recruit internally twice consecutively for the top job is an enormous strength. I am actually very proud of that.
It bodes well. Thanks for the chat. Andresen: Thank you.
Thank you.